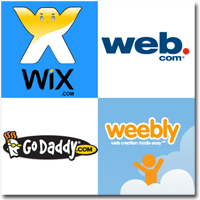 Website Builder vs Hiring a Web Designer
In this post I will outline the pros and cons of using an online website builder like wix.com, vs those of hiring a web designer / developer, or web development company.
What is an online website builder?
Online website builder software provides customers with a user interface (drag and drop), and hundreds of templates to build your website. The top companies include web.com, wix.com, and godaddy.com, but there are many more. For $4 a month, a client can develop their own website by means of the drag and drop interface. Most of these companies have made the learning curve on their software pretty small, so getting a website up in a hurry is fairly easy.
What does a web designer/ developer do?
A web designer/ developer is actually at least 2 jobs. The design part is more artistic, with a skill set that involves the visual layout and ergonomics of the site. A developer is more of a programmer, or someone who works more with the way a site works- it's functionality. You will want to find someone who does both design and development competently, and charges reasonably. A web design firm is made up of designers and developers working together- and maybe a SEO person, and/or a marketing expert- this is more of an option for medium to larger businesses due to the greater expense.
What are the differences between online website builders and web designer/ developers?
Expense: It's $4 a month for a basic website from web.com. If you want any extras, it's an additional cost. Web designers vary in price, according to geographic region, and level of education/ experience. You may pay anywhere from $50 to $120 an hour, depending on these factors. A simple 5-10 page template based website goes for $400 or $500.
Design: With a builder you are limited to the templates they supply. A custom design will cost you between $800 and $1500 from a freelance designer/ developer, and upwards of a few thousand if you choose to go with a web design/ development firm.
User Interface: One advantage to online builders is they all offer a WYSWYG (what you see is what you get) drag and drop editor that the customer can use to make changes to the content of their website. Another name for this type of editor is CMS, or Content Management System. A web designer/ developer may or may not offer a CMS along with the website they build for you. I use WordPress as a development platform, which provides a user friendly client facing CMS with every website.
Access: Online website builders are obviously a large companies that you have limited access to. A freelance designer/ developer is at your beck and call!
Extendability and Scalability: Having your website built by a designer/ developer, depending on the development platform they use, usually results in a website that is much more extendable and scalable than a builder site.
Looking down the road: The future of your website needs to be secure- I have seen a few proprietary content management systems go "bad", just stop working in certain ways. While this can happen with WordPress, it is always fixable by means of updating or replacing the template or plugin in question. The database stays intact, so all your information is secure. I just moved a domain and did a website makeover for a client and had to deal with yahoo.com and their site builder software. It was awful, like driving a beat up car. WordPress is easily transferred to a different webmaster, or you can learn to work on it yourself.
So which is better?
Getting down to brass tacks, my opinion is that a designer/ developer is the right choice for small business owners! Online website builders are very basic- providing a very small site for really made for DIY webmasters or hobbyists. While you can get a website up fast, it is very limited in design elements and functionality.
Extensions like SEO (search engine optimization) are going to cost more, and this adds up over time. Also, here's what they don't want you to know about their SEO add- ons: they don't really work that well. All site builder websites, if you look at the code, have no real content. Search engines don't care a whole lot about metatags you add to your website these days- it's all about content to the Google bot!
What is the Perfect Solution for a Small to Medium Sized Business?
WordPress is the development platform you should make sure your designer/ developer is going to use to build your website. The reasons for this are many. WordPress is a free open- source software, meaning it's developed by many people worldwide on a constant basis, thus always staying updated to web standards. WordPress powers up to 20% of the world's websites today, and around 60% of the top 1 million websites. It has the most user- friendly CMS out there, with the smallest learning curve for basic site editing. It is easily passed between developers if you need to change webmasters as I mentioned before.
With WordPress you can choose from thousands of pre- made templates, both free and premium. You can also get a completely custom design, or have a template modified to your liking. WordPress is very flexible, allowing for easy design changes as well as content changes. This cuts cost if you need to hire someone to help make design or functionality changes. WordPress is highly extendible, with over 1 million free and many more Premium plugins (software extensions) available. There are plugins for nearly anything imaginable, examples being a contact form with a downloadable database, photo galleries with lightbox effects, SEO plugins and much more.
David Bend
holisticwebdesign.net