Using a WordPress theme to help you set up your website is one of the simplest ways to have your website up and running with the minimum of time and effort.
There are many WordPress themes available through a variety of providers. They will give you a coordinated and consistent look to your website without you needing to stress over the basics.
Here we take a look at five of those that could help you with the fastest solution to your website creation.
Astra WordPress Theme
Fast becoming one of the go-to free WordPress themes, Astra offers a fully customisable and fast theme, suitable for many applications. With Astra, you are able to create the perfect professional business website. Astra supportsWooCommerce storefront or personal portfolio; and it is even suitable for blogs. With less than 50kb at the front-end, it is not only lightweight but offers unparalleled speed in its operation. Astra is Native AMP ready and comes with integrated Schema.org.
Working perfectly with all page builders, it is the ideal solution as a perfect free base. Of course, you do have the option of premium add-ons should you require a little more. With a high 5-star rating and million-plus users, this is certainly an option worthy of a look.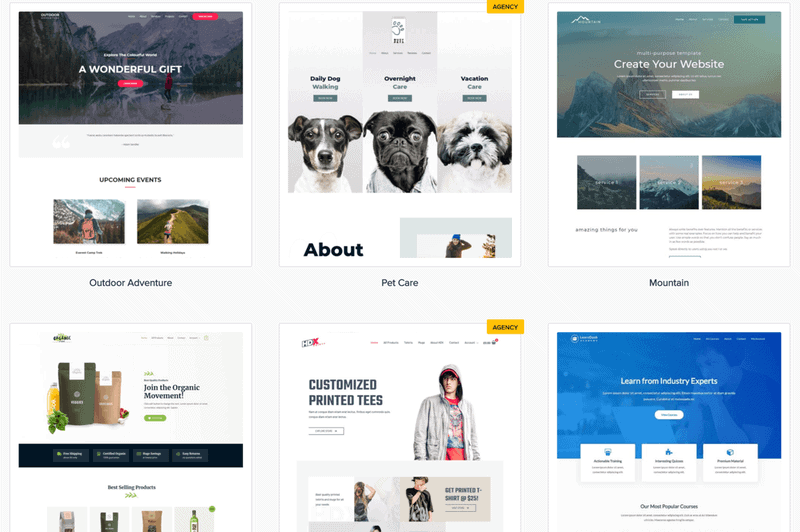 Activello is a pretty simple and straightforward WordPress theme, offering a minimal look which is perfect for designers, bloggers and other creative field professionals.
Its simplicity is perfect for keeping distractions at bay. Activello comes with plenty of customisable options to build a perfect website to suit your needs. Being SEO-friendly, Activello will help you to get the best from Google rankings. It is both desktop and smartphone friendly.
Sauron WordPress Theme
Sauron is a relatively new multipurpose theme, making a big impression with its features. Using one-page scrolling and sticky menus make for an easy to navigate experience for readers and designers alike.
Offering full-width posts, grids and social sharing as well as full-screen lightbox slideshows. It is compatible with the best of WordPress plugins, which makes this suited to many different website requirements from corporate, commercial and photography to blogs. Flat in design and 100% responsive, this is certainly a great theme to look at.
Yes, it is 100% free, it is a great all-round fully responsive WordPress theme, and it is compatible with the best WordPress plug-ins. Using a content-first approach, your posts are the feature of your page. Making this a choice for an excellent for a variety of websites.
Other features include embedded videos, multiple page templates and share buttons, which make this a fast and versatile option.
West WordPress Theme
A state of the art WordPress theme, West makes building your site a stress-free experience. With a host of ready-made layouts all installed with just a single click, it certainly is a time-saver to get you started. The features allow for header images, multi-lingual support and Live Composer integrations with many advanced theme options, making it perfect to create a beautiful company site packed with features
Obviously, your decision will be a personal preference but you can be sure of a quick setup and responsive website with each of the themes above – which one will you choose?
If you need any advice or help with the choices, or would like some more information about our services, don't hesitate! Contact us today!